La mort peut survenir à tout moment. Êtes-vous prêt ?
Talk for IMI sangha by & interview with Ven. Robina Courtin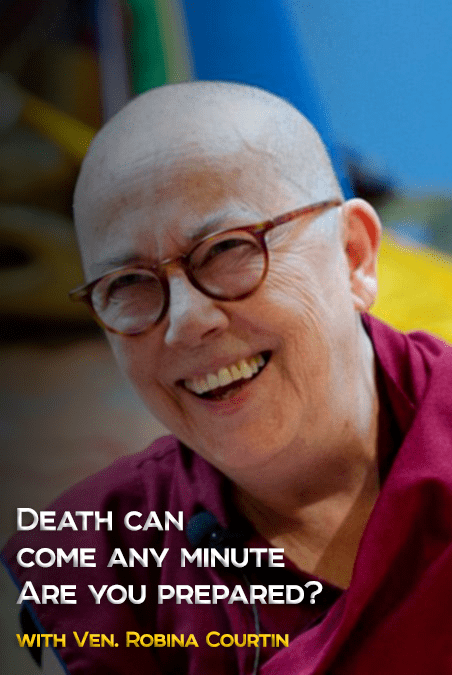 It's only due to your kindness and generosity that Nalanda can continue to create a place for the sangha to live according to their vows and be able to offer conducive conditions for people from all over the world to study, contemplate and meditate on the precious Buddha Dharma.
Hosted by Nalanda and the IMI, the IMI has invited Ven. Robina to give a
motivating Zoom talk on 'being well prepared for death', followed by an
interview, where also Zoom visitors can ask questions.
It is especially meant for students who want to prepare well for death.
Kyabje Lama Zopa Rinpoche advised the sangha multiple times to be
well prepared for death. Of course everyone has to be prepared that
death can come any minute by being familiar with the according
meditations. This is especially so when we have the age or specific
conditions of more risk for untimely death. We have to be worried about
our future destination. Rinpoche also suggested that the IMI helps their
members to get their will and wishes registered using the IMI member
area website.
Ven. Robina edited the marvelous book fulfilling Lama Zopa Rinpoche's
wishes, 'How to Enjoy Death, preparing to meet life's final challenge
without fear'. We asked Ven. Robina to share some personal experience on
the process of writing this book, advice Rinpoche gave her, good and bad
examples she ever heard, and share psychological obstacles which
prevents us from preparing well and why didn't we do it yet.
We will record and upload the talk & interview later in the member area
of the IMI. Also, we can send the link to everyone who asks for it
(director@imisangha.org). If you want to make any contribution (sharing
your good-practice
arrangements, questions you have for Ven. Robina), we would be very
happy to hear from you (office@imisangha.org).
⏰ 10:00 AM (CEST/ Paris time)
🔔 18 September 2022 NEW DATE
🗣️ language: anglais
📌 YouTube Nalanda Monastery > https://youtu.be/br5S3boRsKI

for translations see the Zoom link on this page > https://us06web.zoom.us/j/83560129529?pwd=aElhNVFpWWc2dk93Sy9hTUdYV3JIUT09
ID de réunion : 835 6012 9529
Code d'accès : 376021
💫 be welcomed