Course started on 1st of February 2022
Available in
English
French
Spanish
Tibetan
Available in 4 languages: English, French, Spanish, Tibetan
Teachings time:
Monday - Thursday 9:30 - 12:15 (CET)

Online reviews in English by Ven. Tenpa (subject to change):
Wed 8:00 - 9:15, Fri & Sat 9:00 - 10:30 (CET)
After we already have covered the topics from guru devotion up to the section on joyous effort, including death and rebirth, the twelve links, karma, ethics, how to develop renunciation and Bodhicitta and the first five of the six perfections, we plan to study the last of the six perfections: Insight into Emptiness with Nalanda's abbot – Geshe Jamphel.
In the extensive chapter on special insight, in which we will be absorbed in for the most of 2022, Je Tsongkhapa describes in extensive detail how to develop a correct view on emptiness.
First we will explore how to correctly identify the object of negation by examining others' assertions that Je Tsongkhapa describes as mistaken and clarifying the Madhyamaka position according to Je Tsongkhapa's tradition. In this way Je Tsongkhapa shows how to avoid a too broad or a too narrow identification of the object of negation.
After the identification of the object of negation, the Great Stages illustrates the procedure of how to refute the object of negation.
Then the text shows how to use this procedure to generate the right philosophical view within our own mind-stream by explaining the meditation on the absence of inherent existence based on a chariot and how to apply this example to the self.
In the refutation of a self of phenomena, we will explore the refutation of production from self, other, both or neither.
Je Tsongkhapa goes into great detail on refuting others' assertions and on clarifying his own position.
The course consists 3-hour teachings Monday to Thursday, with one-week breaks every few weeks and holidays in winter and summer.

Available in 4 languages: English, French, Spanish and Tibetan.

The teachings are streamed live and recorded.
Additionally, there are regular revision sessions with one of course assistants.
Revision sessions by Ven. Tenpa are available online in English via Zoom.
Teaching days for the first half of the year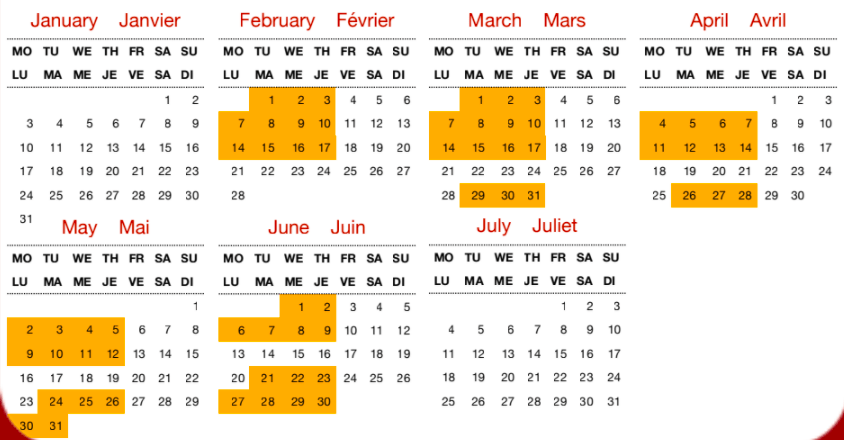 To get an impression of the teachings, you can have a look at the first teaching of Geshe Jamphel on the chapter of Calm Abiding:
We are now happy to offer an online studying option. The online study platform includes live-streamed classes, all course materials, review classes via Zoom by Ven. Tenpa and possibility to meet and interact with other students.
Online participation: 50 euros/ month.
Geshe Jamphel, the abbot of Nalanda, came to France in 2001 after graduating as a Lharampa Geshe at Sera Je monastery in southern India. His passion is to teach the Dharma, in 2008 Geshe-la started teaching a five-year Basic Program followed by the FPMT Masters Program for a further seven years. During this time Geshe-la guided the students through this demanding course which involves studying some of the major texts in Buddhist philosophy.