five-year residential &
online
program
Upcoming FPMT Basic Program in 2023
The next BP with Geshe Jamphel will start in September 2023.
The Nalanda's FPMT Basic Program is a five-year full-time comprehensive course of study, discussion and meditation based upon sutra and tantra texts traditionally studied in the Tibetan Buddhist Gelug tradition, culminating with a three month retreat. As a full-time residential program in a monastic setting, Nalanda is able to offer a unique approach to study and meditation to both Western monastics and committed lay practitioners.
The program has been specifically designed by Lama Zopa Rinpoche to provide a balanced approach to the combination of academic education and the practice of meditation that characterise the Gelug tradition of Tibetan Buddhism, making the study and understanding of the philosophical subjects of immediate and practical benefit. The Basic Program has been structured around a schedule of teachings, review classes, and discussion groups alternated with meditation retreats so as to encourage the integration of the teachings into one's practice with the purpose of gaining a personal experience of them.
This program is ideally suited for those who consider ordination as a life-long commitment. The focused approach of a five year full-time residential study program will give students the opportunity to integrate practical Buddhadharma into their lives rather than just on an intellectual level.
Students who graduate from the program by fulfilling all BP completion requirements, including attendance, behaviour, service, retreat and meditation, and tests and the final exam, are eligible for the FPMT registered teacher procedure, and can serve in FPMT centers and programs in various capacities.
We are happy to offer an online study option. The online study platform includes live-streamed classes, all course materials, review classes via Zoom and the possibility to meet and interact with other students.
"Those who are going to focus on studying, engaging in intensive study, should put all their effort, all their strength, into doing the studies, and they should have the aim of engaging in very high quality study. In general, when someone tries to find out if a monastery is a good monastery or a not-so-good monastery, he will not make this judgment on the basis of whether this monastery is rich or wealthy, but rather, he will judge it on the basis of whether the studies are going well, if the studies at that monastery are of high quality. So, we should have and protect this vision that in the future this place will be labelled or called the University of Nalanda. In Tibetan Buddhism study is regarded as very important in order to understand reality. This is especially emphasised in the Gelug tradition. At Nalanda we focus on studying key Buddhist texts and integrating our studies with actual experience."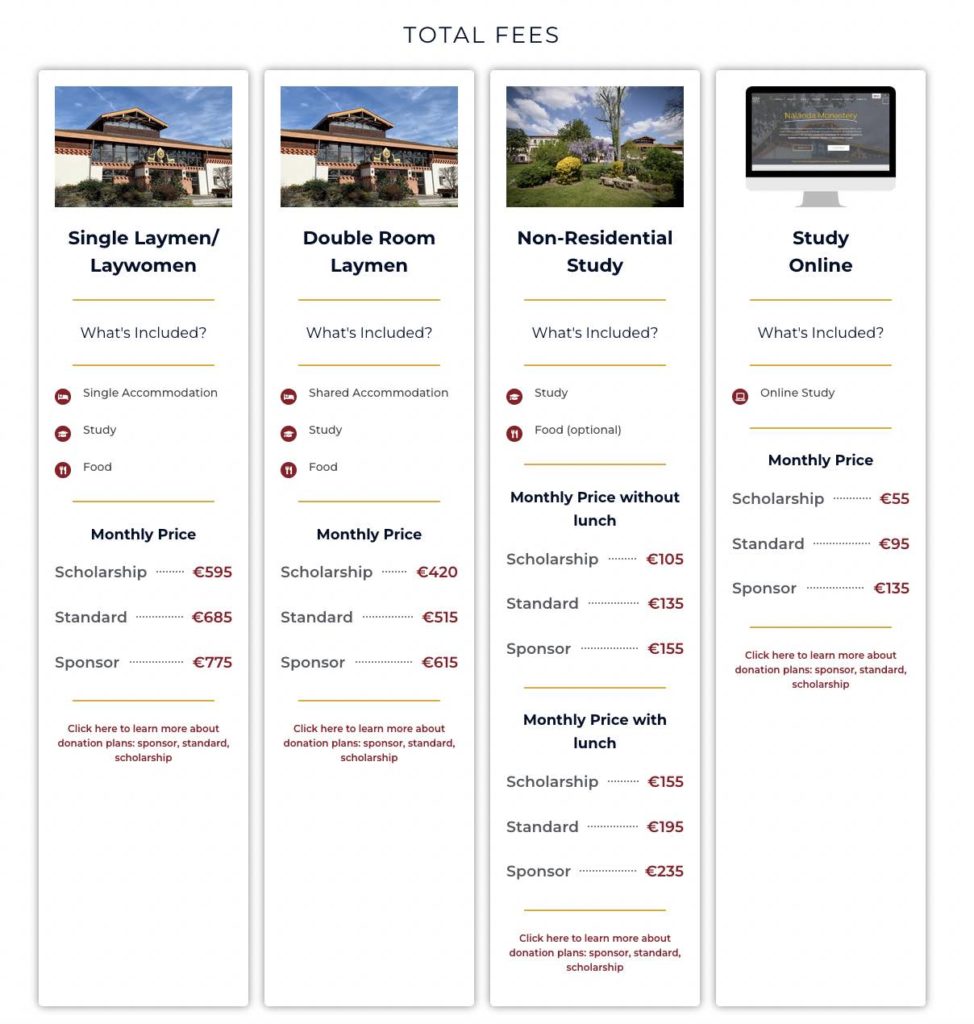 The FPMT Basic Program is of interest to the majority of students regularly attending centers, in particular those who are ready to commit themselves to long-term study and meditation. The program is less academic and demanding than the traditional Geshe Studies or the Masters Program, and can be followed residentially or online.
The BP offers a good, all round, basic Dharma training covering to some degree, all aspects of the teachings. It's an excellent basis for further practice or study.
If all components are successfully completed, students should have developed a good understanding of the Dharma and its application to daily life. They should also have learned how to meditate. This will be a good basis for more advanced study, retreat or less formal practices, such as social service informed by a Buddhist world view. Students may also go on to assist with programs in centres, leading discussions and meditations, for example, or in some cases even teach.