7 day retreat with Ven. Michael Yeshe
Our first Introduction to Buddhism Course!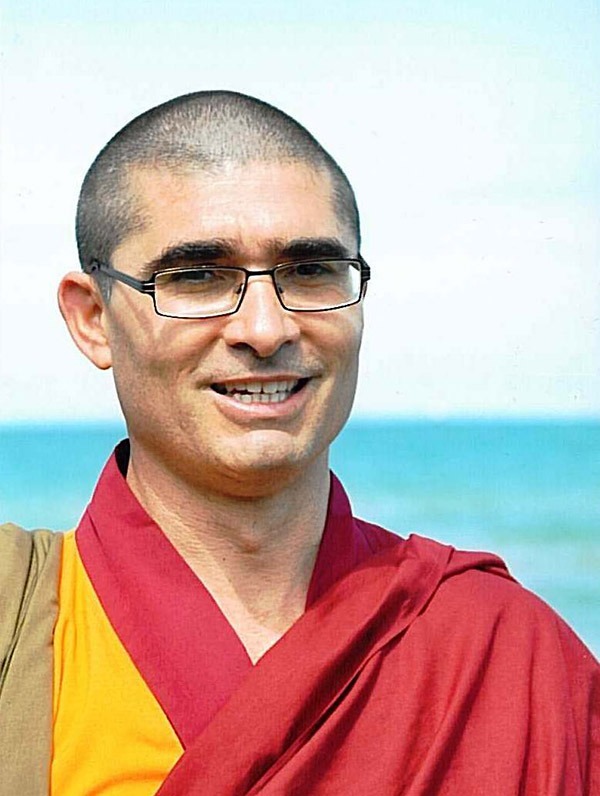 Venerable Michael was born in London in 1966 to a Greek father and a Belgian mother. He was raised in Kopan Monastery in Nepal and has been a monk in the Tibetan Buddhist tradition since the age of 7. At age 13, he entered the Sera Jey Monastic University in South India where he spent the next 18 years studying Buddhist Philosophy.
Since 1996, Venerable Michael Yeshe has been invited to Buddhist centres in America, Singapore, Malaysia and Holland as a translator and teacher. For 11 years he was residing at the Tara Institute in Melbourne where he served as a translator for Venerable Geshe Doga.
He is currently a resident teacher at Yeshin Norbu, Sweden, where he leads buddhist courses and retreats.
Registration closes
Saturday, June 11
Nalanda Monastery is happy to invite everybody for our first Introduction to Buddhism course in a retreat environment, happening from 8th to 16th of July 2022.
Give yourself a break and reconnect with reality. Unwind from social media, distractions and see how ancient wisdom of the enlightened masters can still be relevant for you in this day and age. All of this at the feet of the Tibetan Buddhist Monastery located in the South of France.
To study about Buddhism is to study yourself.
An inspiring life-story of Venerable Michael Yeshe (talk given last year at Institut Vajra Yogini)
During this 7-day introductory retreat, Venerable Michael Yeshe, the main teacher for this course, will explain the key points of Tibetan Buddhist philosophy and meditation from a modern perspective. The goal is to help you taste and apply the Buddha's wisdom to increase peace, happiness, and compassion in your daily life.
Topics which will be covered during the course include:
The Mind and Emotions
Karma
Rebirth
Love and Compassion
The Nature of Reality
During this course you will:
Learn what Buddhism is in a nutshell
Learn how to do meditation
Strengthen and refine your meditative practice (if you already have one)
Learn how to develop a daily meditation practice
Please be aware that this course can be intensive. It involves periods of strict silence, abstaining from internet and electronic devices and sharing a relatively small space with other participants for a prolonged time.
All teachings will be given in English. Translation into French will be offered by Catherine Fradet.
Please note that the schedule may slightly change at short notice.
8 July: Check-in Day
14:00 Check-in & Registration
17:00 – 18:00 Welcome & Introductory talk
18:00 Dinner
19:00 Course Introduction by Venrable Michael Yeshe
9 – 15 July: Teaching & Meditation Program
06:00 Wake up
06:45 – 07:30 Mindfulness Meditation
07:30 Breakfast
09:00 – 11:00 Teaching session #1
11:15 – 12:00 Stretching (if teacher available) or Walking Meditation
12:30 – 15:00 Lunch & Karma Yoga Jobs
15:00 – 16:00 Discussion Groups
16:00 Tea Break
16:30 – 18:00 Teaching session #2
18:00 Dinner
19:30 Guided Meditation
16 July: Check-out Day
06:00 Wake up
06:45 – 07:30 Mindfulness Meditation
07:30 Breakfast
09:00 Final Talk & Feedback
12:30 Lunch
14:00 Check-out
Please Note: All participants must come on time and are expected to attend all sessions of the course. Late arrivals or early departures are not permitted. Please make your travel arrangements to Nalanda accordingly.
In order to create the best possible conditions for a fruitful retreat we ask all participants to be mindful of the following rules:
Silence: Starting after dinner till the lunch time the next day, all participants must observe strict silence. Speaking is only allowed in the 'Question and Answer sessions' and in case of emergency.
No smartphones or other electronic devices: All devices will be collected at the beginning of the retreat and returned at the end. There will be an office phone provided to make and receive calls in case of emergency only.
Full participation: Participants must attend all sessions.
Food: All meals are vegetarian or vegan. We offer breakfast, lunch and a light dinner.
Karma yoga: Participants will be assigned a light task to do every day (for example: cleaning or dishwashing).
Punctuality: It is very important to arrive on time for all sessions. A wristwatch will be useful.
The 5 basic precepts: We ask everybody to refrain from killing, stealing, lying, taking intoxicants (including cigarettes), and engaging in sexual activity while staying at Nalanda.