Celebrating Buddha's birth, enlightenment & parinirvana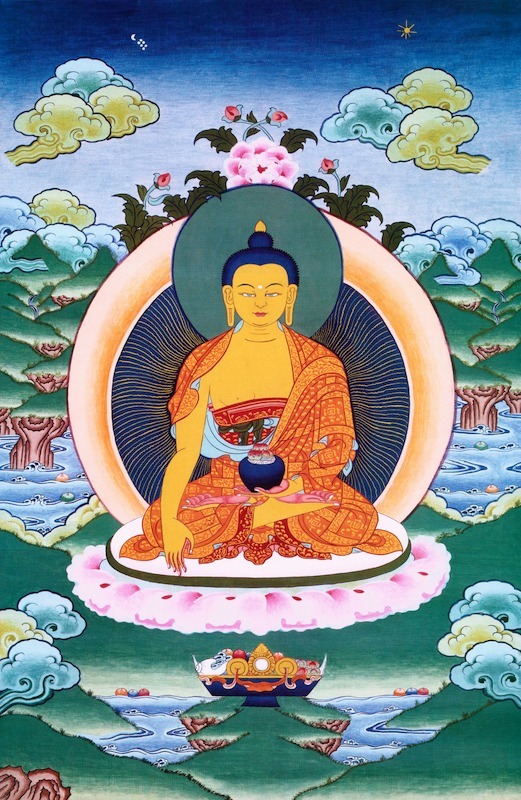 Please choose "Saka Dawa Guru Puja" in the dropdown menu & specify the names for special dedication.

Are you ready for Saka Dawa?
We are fast approaching the auspicious merit-multiplying day of Saka Dawa Duchen — the fifteenth day of the fourth month in the Tibetan lunar calendar — which commemorates Shakyamuni Buddha's birth, enlightenment, and parinirvana.
Saka Dawa Duchen, which is on June 4 this year, is one of the four great holy days of the Tibetan calendar. On this day, the karmic results are multiplied by 300 million times, as it commemorates Shakyamuni Buddha's three major life events.
At Nalanda, we also aim to have a meaningful Saka Dawa day by following the advice of Rinpoche.
After taking the 8 Mahayana Precepts, our community will participate in Lama Tsongkapa's Guru Yoga, then Geshe Gyaltsen, our resident teacher, will give brief teachings on mind transformation (lo-jong), using the Eight Verses of Mind Training by Geshe Langri Thangpa.
After lunch, we'll have an animal liberation puja near the stupa outside, then we'll proceed with the recitation of the Sutra Remembering the Three Jewels, Vajra Cutter Sutra.
The Saka Dawa day here at Nalanda will finish with the special Guru Puja (Lama Chöpa) with Tsog, which will also be live-streamed on our YouTube channel.
Schedule for Sunday, 4th of June:
06:00 — 06:30 Taking 8 Mahayana Precepts
06:30 — 07:30 Lama Tsongkhapa Guru Yoga
10:00 — 11:30 Teachings on Eight Verses of Mind Training and oral transmission of King of Prayers by Geshe Gyaltsen (in person & live)
12:30 Lunch
14:30 — 15:30 Animal Liberation (at the stupa)
16:30 — 17:30 Recitation of Sutras (in person & live)
19:00 — 21:30 Lama Chopa & Tsog (in person and live-streamed here)
All times are CEST.
Feel free to join us for any part of the program either online or in person!
P.S.
If you also want to join us for the special Saka Dawa's lunch, please contact
kitchen@nalanda-monastery.eu
mentioning your name, number of people and preference (vegan/vegetarian).
If you would like to contribute towards extensive offerings for this Guru Puja, click on the Donate button, selecting "Saka Dawa: Guru Puja" in the drop-down menu and then specifying the names for the special dedication.
Please note, the final day for donation would be Saturday (03 June), to process the dedications, go shopping, nicely arrange the altar prior to the Puja and so forth.
You can also contribute towards Animal Liberation Puja on Saka Dawa, using the same donation form and selecting "Animal Liberation" in the drop-down menu.
Live Stream - Eight Verses of Mind Training
Tuesday June 4, 10am (CEST)
Live Stream - Recitation of Sutras
Tuesday June 4, 4.30pm (CEST)
Live Stream - Lama Chopa & Tsog
Tuesday June 4, 7pm (CEST)